Different Types of Pipe Fittings in Plumbing System
The role of pipe fittings in a plumbing system is to connect multiple pipes of the same size or different sizes to change direction, change size, and branch connections. Different pipe fittings play different roles according to shape or process requirements. They are made of different materials, common ones are copper, iron, brass, PVC, etc. There are many types of fittings used in plumbing systems, depending on their purpose and function.



Elbow

Elbows are used to change the direction of pipes. According to the angle, there are usually 45 degrees and 90 degrees; there are also bends and U-shaped return bend. If two pipes of the same diameter are connected, an equal elbow can be used, otherwise, a reducing elbow can be used. Elbow fittings are generally threaded, with internal threads, or internal and external threads. There are also grooved pipe fittings without threads, which generally have 11.25 degrees, 22.5 degrees, 45 degrees, and 90 degrees, and can be connected by groove couplings. Carbon steel elbow fittings can be connected by welding.



90 degree elbow
90 degree elbow, reducing
45 degree elbow
Bend 90 degree, female
return bend
grooved elbow 90 degree




Tee

The tee fitting is T-shaped with three outlets. The two pipes connected by it are perpendicular at 90 degrees. It can make a pipeline branch flow out from two outlets, or it can combine two inlet branch flows into one. According to the diameter of its three ports, it is divided into the equal tee and reducing tee.





Equal tee
reducing tee
grooved reducing tee


Cross

A cross is a pipe fitting with four openings, connecting four pipes at right angles in twos. Because it is in the center of the four connection points, it experiences more stress. From this point of view, the raw materials of cross need to be of high quality, and the processing process needs to be very strict. Cross are commonly used in firefighting systems.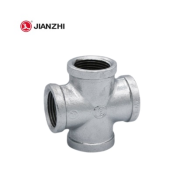 Cross






Coupling

Coupling is a common pipe fitting that connects two pipes, and there are several types of equal, reducing and F&M. Precision threads ensure it won't leak. Couplings made of plastic are provided with gaskets or rubber seals on both sides to prevent leakage.



malleable iron coupling
malleable iron reducing coupling
PVC coupling


Union

The function of the union is similar to the coupling, the difference is that the union is composed of three parts: the nut, the external thread and the internal thread. When needed, the central nut can be turned to remove the fitting without disturbing the rest of the pipe.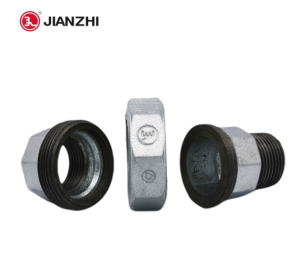 union




Nipple

The nipple is externally threaded and is used to connect two pipes. The length of the Nipple is determined by the length of the thread. The center of the Nipple has a hexagonal cross-section to facilitate the wrench to turn it. There is also a Nipple that is a small piece of pipe with no section in the middle, which is usually made of carbon steel.





Malleable iron nipple
carbon steel nipple




Plug and Cap

They are often used to temporarily restrict the flow of the plumbing system, which is necessary during inspection and repair work on piping systems. The plug is internally threaded and the cap is externally threaded.



Plug
cap




All the pipe fittings described above are mainly made of malleable iron. The pipe fittings adopt advanced production equipment and technology. Jianzhi Group has been focusing on making malleable steel pipe fittings for 40 years. Using KTH330-08 malleable cast iron, the tensile strength of our products is 10% higher than the national standard, and the elongation is 33% higher than the national standard. This means that our quality is absolutely trustworthy.

Their enduring popularity is due to the long service life of 60 to 80 years, and the high strength of the material. By choosing high-quality fittings, you will avoid many following troubles.